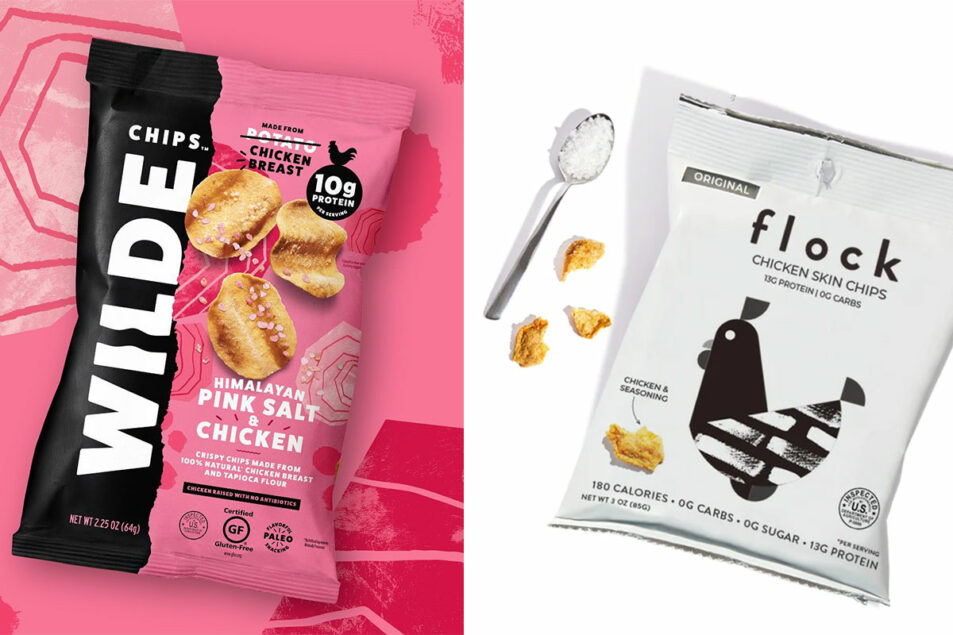 CHICAGO — Meat snacks are on fire, with Future Market Insights, Newark, Del., projecting the category to reach $21.3 billion by 2032, representing a compound annual growth rate of 7.7%. Demand is fueled by high-protein diets and keto lifestyles, and manufacturers are responding with better-for-you formulations, with chicken dominating many of the recent innovations.
Currently it is estimated that more than 90% of meat snack options are made from beef. Not only does beef have high saturated fat content, but it also has the highest carbon footprint of all food sources, according to research published in the June 2018 issue of Science. Chicken produces 90% less of a carbon footprint than beef, making chicken an attractive high-protein snack for this growing eating daypart. It also brings female appeal to a category that traditionally skewed masculine. The biggest barriers in growing the segment are poor product experience, given traditional jerkies are tough, hard to chew, and not elegant to eat, and the desire for leaner and carbon-light protein sources. It is paramount to overcome these barriers as snacking has become a way of life.
Interest in protein snacks
"Snacking is a lifestyle in the US," said Sally Lyons Wyatt, executive vice president and practice leader, Information Resources Inc., Chicago, at the "State of Snacking" session held during the Sweets & Snacks Expo on May 24-26 in Chicago. "It is not going away anytime soon. And despite ups and downs, the snacking category is showing tremendous growth.
"For the past six years, consumers have been consuming three-plus snacks per day," Lyons Wyatt said. "Consumers are going to a variety of different outlets to get snacking options. Nuts are no longer the only snacks out there where you can get that quick protein hit."
Chicken snacks have become a growing option. Access to meat snacks, in general, has expanded beyond the traditional channel of the ambient counter at convenience stores. Grocers merchandise them in dedicated sections in the center of the store, with some specialty players dedicating endcap displays to the category. There are also refrigerated options located in both the deli and luncheon meat departments. Meat snacks can also be found in sports stores for backpackers, as well as coffee shops, kiosks and vending machines. This increased presence — anywhere and everywhere — has improved consumer awareness of this snacking option and is contributing to the category's projected growth.
It's all about making sure the right snack is in the right place at the right time, explained Mike Gervasio, vice president, category leadership for PepsiCo, Harrison, NY.
"Today there are approximately 300 billion snacking occasions that occur annually in the US," said Gervasio. "That means there is a need for a snacking portfolio that meets a broader set of consumer needs than ever before."
It's no wonder that plant-based meat-style snacks are also gaining traction. In fact, of all plant-based meat-style products, meat-style snacks are one of the easiest to simulate in a vegan format (See sidebar). That's because these snacks tend to have intense flavor combinations, usually involving heat or spices, which suppresses any undesirable attributes associated with plant proteins.
"Rising awareness for balanced nutrient-rich eatables is expected to propel the demand for meat snacks products," according to a Future Market Insights analyst. "Key companies are investing in developing substitute plant-based meat products that have similar texture and flavor as animal-based meat. Packaging innovation that prolongs shelf life of products is expected to gain traction in following years."
The State of Snacking report from Mondelez International Inc., Chicago, showed that more than three-fourths of the 3,055 adults surveyed in October 2021, are eating different snacks today than they did three years ago. Eighty-four percent said they anticipate more snack options to choose from in the next three years; 80% said they expect to be able to buy the snacks that they want whenever they want.
Chicago-based Anne Scott Livingston, a research analyst for Euromonitor International, refers to this as "snackification," and said it is "the future of occasions in a post-pandemic normal. It is the trend that captures share from other meals."
And one of the platforms fueling that innovation is "strong, spicy snacks. They are growing in demand, different flavors of peppers and levels of heat," Scott Livingston said.
Salt and Peppers
Chicken snack manufacturers are differentiating with the spicy heat of their flavor innovations. Buffalo and barbecue flavors are part of this hot and spicy trend. "Salt" is also expected to be a growing flavor trend across all food and beverage, according to Lizzy Freier, menu research and insights, Technomic, Chicago. What some might think of as a simple ingredient, salt will become the focal point of flavor innovations. It will go beyond being a basic and familiar taste to taking center stage.
Wilde Brands, Boulder, Colo., speaks to both flavor trends while also thinking beyond the traditional meat snack form and offers a crunchy chip concept. Wilde Chips are made with a few simple, clean ingredients. They start with real chicken breast that gets combined with egg whites, chicken bone broth and a touch of tapioca flour. The mixture is sliced super thin and lightly fried. Flavors include Buffalo, Himalayan Pink Salt, Nashville Hot and Sea Salt Vinegar. There's also Chicken + Waffles, with the chips crisped in coconut oil then seasoned with a buttery maple syrup and a touch of cinnamon.
"I wanted to create flavors that had never been seen before in the snack aisles," said Jason Wright, founder.
The chips are gluten and grain free, low carbohydrate and keto friendly. The un-potato chips deliver 15 grams of protein and no more than 1 gram of sugar per serving.
Flock, San Francisco, uses chicken skins to make its namesake chips. Flock Chicken Chips are made from 100% real chicken skins, seasoning blends and oil. They are made in small batches fried in woks.
The company chose to make the chips from chicken skins — an upcycled ingredient from boneless, skinless chicken processing — because they provide a combination of crispiness and taste while also delivering 12 grams of protein, zero sugar, and 0 to 1 grams of carbohydrates, depending on flavor. Varieties are Barbecue, Original, Sea Salt Vinegar and Hattie B's Hot Nashville. The latter is a co-branding relationship with the Hot Hattie B's Chicken chain.
A serving also contains 14 grams of fat, which the company describes as "good fat." It is mostly the soybean oil the skins are fried in, which is believed to be associated with lowering high cholesterol levels and reducing blood pressure.
"Chicken skins are a nutrient dense ingredient, which have been historically overlooked and left for refuse," according to the company. "By utilizing this resource, we're actively fighting against America's food waste problem and paving the way for future categories to rethink innovation and sustainability."
K2 Ventures, a Boston-based startup, launched Brave Good Kind Tender Chicken Bars earlier this year, after a successful launch of chicken bites in 2021.
"Brave Good Kind was born to re-imagine healthy snacking, focusing on the meat snacks category with an offering that is tender, all-natural and made with chicken," said Prabal Chaudhri, president and founder. "We know consumers want a jerky that is easy to eat and are looking for a tenderly delicious snack without un-sustained sugary spikes of energy from guilt-inducing ingredients. We also addressed the desire for a more sustainable protein source. The result is a snack that fulfills both desire and conscience."
Bites and bars are made with antibiotic-free chicken. Varieties include Hot Honey, Original and Teriyaki. One 0.8-oz bar contains 8 grams of protein, 4 to 5 grams of carbohydrates and less than 6 grams of sugar.
Going beyond meat
Plant-based jerky snacks are gaining traction in the United States. They are poised to be one of the more widely accepted plant-based meat categories by flexitarians, according to Devan Conness, research analyst, Euromonitor International, Chicago.
"Plant-based jerky ticks the same convenience and nutritional boxes as meat jerky, while avoiding health risks associated with red meat consumption and by using more sustainably produced ingredients," Conness said. "As the number of consumers trying to limit their meat intake increased in 2021 and 2022, customers browsing the jerky aisle for sustainable snacks could become regular purchasers of plant-based options."
Beyond Meat, El Segundo, Calif., is the most recent brand to enter this space. Beyond Meat Jerky is marinated and slow roasted to deliver the same delicious, tender bite of traditional beef jerky, while offering 10 grams of plant-powered protein. It is made from peas and mung beans without cholesterol, GMOs, soy or gluten. Varieties are Hot & Spicy, Original and Teriyaki.
It is the first product co-developed by Beyond Meat and PepsiCo, Harrison, NY, as part of the Planet Partnership joint venture. The effort aims to make innovative snack and beverage products made from plant-based protein to build a more sustainable food system and be a positive force for people and the planet.


Read original article here





Denial of responsibility! Maryam's Menu is an automatic aggregator of the all world's food and drink media. In each content, the hyperlink to the primary source is specified. All trademarks belong to their rightful owners, all materials to their authors. If you are the owner of the content and do not want us to publish your materials, please contact us by email – admin@maryamsmenu.com. The content will be deleted within 24 hours.